Tribes: Ascend/Juggernaut
Jump to navigation
Jump to search
Juggernaut

Screenshot from class selection page

General Information
Armor
Heavy
Health Pool
2,400 (

2,500/2,600

)
Health Regen Delay
20 seconds (

15 seconds

)
Energy Pool
80 (

90

)
Energy Regen Rate
9/s
Walk Speed
7.2 m/s
Mass
130 kg
Cost
Tribes Gold
Free
XP
Free
Mastery
3,750 XP

"Juggernauts excel at long range bombardment and devastate the exterior of enemy bases with their Mortars."
Loadouts
Weapons

Packs
Belt
Upgrades
Skins
Armor Upgrades
Juggernaut MK I
+100 Health
-25% Regeneration delay
+10 Energy
+25% Health Regeneration rate
+100 Health
Skins
Forlorn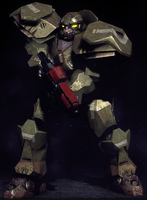 487 Gold
Forlorn
"Some bands of warriors become mercenaries, selling their skills for payment. The Forlorn, however, join only lost causes. They work for free, letting the fame of turning a battle be their payment."
Armors
Pre Version 1.1

Removed

Not Released